Create Your Own Instagram Stories GIFs Workshop (night class)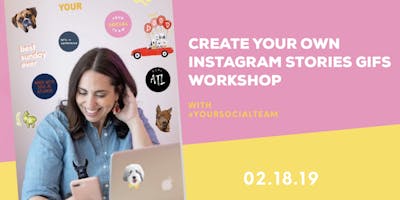 February 18, 2019, 6:00 pm - 9:00 pm
·
Switchyards Downtown Club
·
Your Social Team
·
Details
Instagram stories GIFs are one of the most popular feature on Instagram. They are a great way to put your brand out there, stand out and interact with your audience. This class will teach you how to set up and create yours. We will do it together
***Read before you buy***
To take this class you will need:
– a website URL and to provide an email with the same domain – for example: www.yoursocial.team and hello@yoursocial.team. Otherwise Giphy won't approve your account.
– a logo for us to animate into a GIF
– Laptop with Photoshop installed (can be the free trial version and no previous Photoshop experience needed)
IMPORTANT: If you don't have those things, you can still come to the class and learn if you want to, but you won't be able to add your GIFs to Instagram stories.
Takeaways:
– We will set up your business as a verified brand on Giphy 
– We will animate your logo into a GIF sticker with the correct specs for Instagram
– We will upload your GIF with the correct SEO for it to be found
+ you will learn some great ideas on how to use your GIF to grow engagement and brand awareness on Instagram
About the instructor:
Manu Muraro founded Your Social Team in 2017 and has since then worked with over 200 brands including Ponce City Market, Tiny Doors ATL and the High Museum of Art. She is also the co-founder of women's conference, Let's Conference in partnership with ATL Girl Gang. She is the former King of Pops Marketing (and Social Media) Director, and former Cartoon Network Creative Manager.