Growing Your Instagram Following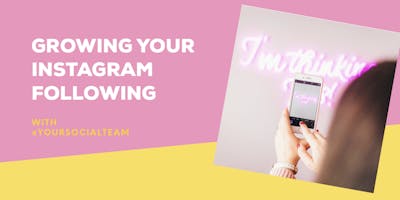 February 22, 2019, 9:00 am - 12:00 pm
·
Switchyards Downtown Club
·
YOUR SOCIAL TEAM
·
Details
Let's be honest, the Instagram struggle is real! A couple years ago, some pretty images and witty puns were enough to grow your Instagram following. Today with 1+ billion accounts on the platform, it's a whole different game.
If you think the only way to grow an Instagram account today are follow for follow, bots or crazy giveaways you need to join us!
In this fun 3-hour class you will learn:
– How to prepare your Instagram account for growth, so your new audiences will actually follow and engage
– Our 10 proven completely organic strategies to grow your account, which when combined make our 1-person B2B gain up to 1,000 targeted followers per month.
– Q&A
About the instructor:
Manu Muraro is the founder of Your Social Team, the only Instagram training business in Atlanta (and possibly in the US). She is also the former King of Pops Marketing (and Social Media) Director, former Cartoon Network Creative Manager. With Your Social Team, she has worked with over 200 brands including Ponce City Market, Tiny Doors ATL, High Museum of Art and the AJC. In 2018 she co-founded Let's Conference in partnership with ATL Girl Gang, a conference to empower and connect the women of Atlanta.